Tokens
are a form of currency formerly used at Chuck E. Cheese Restaurants to play games. The Chuck E. Cheese branded tokens were first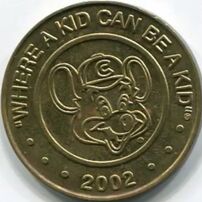 released in 1980, but appeared several years prior at other Chuck E. Cheese locations. Starting in 2016, the tokens were replaced with rewards cards, and are no longer being produced.
As of 2018, most token-based stores are internationally located.
For a gallery of tokens and images related to tokens, see Tokens/Gallery.