Tux Chuck is the second iteration of Chuck E. Cheese. He was introduced 1990 with the onset of Concept Unification, a process that would merge CEC with its sister company Showbiz Pizza Place. In 1994, Tux Chuck began to overlap with a younger, more contemporary design for the character, Coach Chuck. The two designs alternated until the early 2000's, when they were replaced by Cool Chuck.
Bio
A redesign for the Chuck E. Cheese character was considered as early as 1989, when Showbiz Pizza Time, the owners of the Showbiz Pizza Place and Chuck E. Cheese's restaurant chains, broke relations with Aaron Fechter, the creator and engineer of the Rock-afire-Explosion, the animatronic band that appeared in Showbiz Pizza Place stores. As Fechter kept the rights to RAE trademarks, Showbiz Pizza Time decided to further utilize the Chuck E. Cheese trademarks, having acquired them in 1984 when Chuck E. Cheese's emerged from bankruptcy under SPT. They began to merge the two restaurant chains under a new name, "Chuck E. Cheese's Pizza", which was shortened to "Chuck E. Cheese's" in 1994. As part of the process, all likenesses of the RAE characters were replaced by the Chuck E. Cheese characters. By 1992, all existing Showbiz Pizza Place locations had been rebranded as Chuck E. Cheese's restaurants.
Showbiz Pizza Time commissioned Texas-based Peeler-Rose Productions to revamp their brand. As a result, Chuck E. Cheese was attired in a tuxedo while still keeping his derby hat, and was drawn in a more "cartoony" style. Voice actor Scott Wilson kept his role as Chuck E. Cheese before being replaced by Duncan Brannan in 1993.
In 1993, Showbiz Pizza Time redesigned Chuck E. Cheese once more to compete with new family entertainment center Discovery Zone, which resulted in "Tux" alternating with a new design, "Coach Chuck". The change also gave both designs of the character a softer, less rat-like face. The designs overlapped before Showbiz Pizza Time introduced Cool Chuck, and by 1999 the design was no longer being used; nevertheless, the "Tux" design was still used in restaurant décor, animatronic costumes (till 2001, the last one being in Attleboro, MA, removed in January 2014), and "Tux" walkaround costumes were still used in circulation as alternate costumes up through 2004, when CEC Entertainment, Inc. (the renamed Showbiz Pizza Time) retired the design completely at the onset of Phase 4.
Physical Description
Tux (or Derby Chuck as some fans prefer) Chuck is a gray-furred mouse that wears a tuxedo outfit composed of a black tailcoat with gold or yellow lapels as well as a matching cummerbund and backside, a white dress shirt with one or two black or white buttons, a large red bow tie, long black pants, white gloves, and black and white loafer shoes (the latter two not being shown in the animatronic versions of the character, and being from his earliest design). In the cartoon version, the tux was only worn on special occasions, and he retained his red vest. Unlike Chuck E.'s previous incarnation, he would change his outfit from time to time, including a sports uniform, a musician's outfit, and a cowboy attire. However, like his previous incarnation, the character had long, rat whiskers, although they were removed by 1994. Chuck E. retained his signature red and yellow derby hat for the final time in this design until 2017. According to a 1994 trademark pamphlet, Tux Chuck is approximately 25 years old.
The Coach design featured a red and blue cap with a yellow star on it, a red sweater, and blue sweatpants. On the store logos, the sweater was yellow and the hat was all red.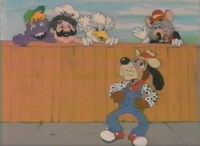 Tux Chuck was designed and animated by artists Dan Peeler and Charlie Rose.
Catchphrases
"Hi there everybody!"
"You ready for a show?"
"Well, let's go!"
"Let's get this show on the road!"
"Here we go!"
"How you doin'?"
"This is Chuck E. Cheese wishing you the very best! Happy birthday!"
"Yay!"
"Yes!"
"Yeah!"
"Let's do this!"
"Ha-ha!"
Trivia
Tux was the first iteration of Chuck E. to ever change his outfit from time to time.
Chuck E. was the last iteration to have whiskers and a tail until the Rockstar era.
Chuck E. retains his black and white loafer shoes from the PTT era.

Likewise, Chuck E. also keeps his derby.

This was the first iteration of the character to hold the title of "Ambassador of Fun".
This version of Chuck E. has an updated cane, switching from a brown vaudeville cane to a black and white/black and gold/white and gold formal cane/baton.
Chuck E.'s sports shirt depends on the weather. In spring/summer, it has short sleeves, while in fall/winter, it has long sleeves.
Gallery