Jurassic World: Dominion Dominates Fandom Wikis - The Loop
Play Sound
Chuck E. Cheese

"When you're in here, You're in for a real good time!"

Species:

Rat (later a mouse)

Gender:

Male

Voice Actors:

John Widelock (1977-1983)
Scott Wilson (1983-1990)


Family:

Chett R. Cheese & Daisy Cheese (grandparents)
Unnamed parents
Unnamed nephew

Birthday:

May 22nd
PTT Chuck, the first version of the character, was introduced in 1977 where he was voiced by John Widelock, and later by Scott Wilson.
Bio
Chuck E. was originally going to be named "Ricky Rat", but this idea was immediately shot down by the team at Atari. In the first showtape, he had a completely different persona than the later incarnations. He was a rat down to the heart, and directly made fun of the other characters onstage. He also originally smoked cigars in the first few animatronic portrait figures. This was eradicated from the later shows, Cyberamics, and other media, during The Great American Smoke Out in 1980. He often had a brown vaudeville cane in his hand at times. He didn't play any instruments, however, he holds a microphone, as he is not only the host of the Pizza time Theatre, but also a vocalist, who often sang out loud.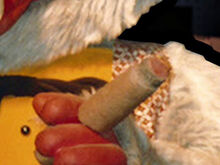 Chuck E. was known as "Big C" by the other Pizza Time Players, and even he had a brief stint of being known as "Bingley" but according to several sources, this was changed as John Widelock had trouble pronouncing the name. Even with his harsh actions, he always made it clear that he really cared for his friends onstage, often. He became softer after 1984 until Concept Unification, where the character switched to Tux Chuck.
Chuck E.'s birthday is May 22nd, and he's said to get over excited over birthdays, and laugh at his own jokes.
His trademarks include his New Jersey accent, his many jokes and insults, his red derby, a great big smile on his face, and winking at his may friends and fans.
Physical Description
PTT Chuck was a dark gray rat in color, and he had either blue or green eyes (black eyes in the cartoon). His snout was longer and pink, and usually wore a typically red vest. Originally, he also donned a pair of white gloves, and black and white loafer shoes, both of which were removed in 1986. His red derby hat was one of his more significant features. He is one of the only characters to always remain in the same outfit, as he would often change his hat (with his derby being underneath). This included a top hat, a cowboy hat, a captain's cap, a pirate hat, and a safari hat. He would also sometimes change his shoes, including rainboots, snowshoes, sneakers, and sometimes, slippers.
Catchphrases
"The Pizza Time Theatre proudly presents...'
"TURN OFF THE DOG!!! TURN OFF THE FRUITCAKE DOG!!!"
"Hiya folks!"
"Without saying anymore further ta do, ta do, ta do..."
"NOW CUT THAT OUT!!!"
"(chuckles) Ehe heh heh heh."
"Sorry about that folks."
"This is your ol' pal/friend Chuck E. Cheese!"
"You're gonna have to excuse that fruitcake dog. He's got a funny bone for a brain."
"...nitwit!"
Trivia
PTT Chuck is the the only incarnation of the character with a confirmed birthday. Tux/Coach Chuck and Cool/Avenger Chuck's birthdays are unconfirmed, and Rockstar Chuck's is unknown as he was born an orphan who never knew his birthday.
While recording John Widelock's lines for "The Christmas that Almost Wasn't", he couldn't sing a note, so Scott Wilson had to sing as Chuck E., and did so well that John Widelock was fired on the spot, and Scott Wilson would take over the role as the voice of the character.
If you don't include Crusty, Chuck E. was the only character that Widelock would perform for the entirety of the pre-bankruptcy era.

Both Jasper and Pasqually were voiced by Widelock in the demo tape, but when the company decided to go with different voice actors to decrease the amount to post-production required and increase the overall chemistry between the characters, Scott Paulin became the voice of Jasper, while Joe Spano became the voice of Pasqually.
Chuck E.'s demo voice resembled that of a carnival barker, but later shifted into more of a New Jersey accent.

Chuck E. was the only character who couldn't sing a note, until the Madame Oink tape, Tunnel of Love, where it was revealed that he could sing.

Unlike Chuck E.'s speaking voice, his singing voice somewhat drops the New Jersey accent.

Chuck E.'s tail originally pointed upward, but it later started pointing downwards.
Chuck E.'s last name "Cheese" was given to him not only to represent cheese on a pizza, but when one says "cheese", it forces a smile, which is what Chuck E. is known for.
Chuck E. has appeared on the most merchandise the company has made, more than any other character in the franchise.

Likewise, Chuck E. is also had the most show appearances, as he has appeared in every single show. Jasper, Pasqually, and the Warblettes (until the retirement of the latter) has also appeared in every show, but as supporting roles, with the exception of Jasper's Texas Show, where Jasper took the lead.
While the Madame Oink show, Tune Machine would technically count as an exception as well, Chuck E. often argued with the tune machine throughout the show over if either he or Madame Oink was the true star of the show.

Both Chuck E. Cheese and Helen Henny were the stars of Broadway Helen, which involves a Broadway talent scout coming to see them perform.
In the cancelled special, "The Christmas That Almost Wasn't", Chuck E. had an alternative bow tie. Instead of a black one, he was seen with a blue one.
Gallery