Chuck E. Cheese (formerly known as Chuck E. Cheese's Pizza Time Theatre, Chuck E. Cheese's Pizza and simply Chuck E. Cheese's) is an American family entertainment center and pizza restaurant chain founded in 1977 by Atari's co-founder Nolan Bushnell. Headquartered in Irving, Texas, each location features arcade games, amusement rides, and character stage shows in addition to serving pizza and other food items; former mainstays included ball pits, crawl tubes, and animatronic shows. The chain's name is taken from its main character and mascot, Chuck E. Cheese. The first location opened as Chuck E. Cheese's Pizza Time Theatre in San Jose, California. It was the first family restaurant to integrate food with arcade games and animated entertainment.
After filing for bankruptcy in 1984, the chain was acquired in 1985 by Brock Hotel Corporation, parent company of competitor ShowBiz Pizza Place. The merger formed a new parent company, ShowBiz Pizza Time, Inc., which began unifying the two brands in 1990, renaming every location Chuck E. Cheese's Pizza. It was later shortened to Chuck E. Cheese's in 1994, and Chuck E. Cheese in 2019. Parent company ShowBiz Pizza Time also became CEC Entertainment in 1998.
As of June 2020, CEC Entertainment owned 611 Chuck E. Cheese venues in 47 U.S. states, four Canadian provinces, and 3 cities in Puerto Rico. The COVID-19 pandemic put significant financial strain on the company, and CEC Entertainment filed a voluntary bankruptcy petition under Chapter 11 in the Southern District of Texas on June 25, 2020. The announcement was coordinated with 47 states and 16 countries including the United States, Canada, Mexico, Chile, Saudi Arabia, the United Arab Emirates and India.
As of now, Chuck E. Cheese is currently remodeling all od their locations with the instalationof the dance floor and removing the animatronics
History
Prologue
The history of Chuck E. Cheese's begins with Nolan Bushnell. Bushnell grew up in Utah and while earning an electrical engineering degree from the University of Utah, Bushnell worked as a games division manager at the Lagoon Amusement Park. It was during this period that he learned the business side of the entertainment industry, studying the leisure habits of consumers and figuring out ways to market to those habits. Upon graduating, Bushnell left Utah and moved to California with the hopes of becoming an engineer for Disney.
When that attempt failed, he went to work for Ampex Corp, a video equipment maker in Redwood City, California. At Ampex Bushnell befriended a co-worker named Ted Dabney, and soon enough the two were in discussions about starting a business together - specifically a pizza parlor that incorporated Disneyesque entertainment. They soon began visiting local pizza parlors and scouting locations to see if they could feasibly turn this concept into reality. It was during this time that Bushnell and Dabney visited the University of Stanford's computer laboratory (SAIL) to see Spacewar! – the world's very first video game.
Bushnell had the idea to create a cheaper version of the game that could be marketed at the consumer level. With the pizza parlor idea sidelined, the two focused on developing a cost-effective Spacewar! clone, leaving Ampex Corp (having founded the company Syzygy to market the game they hoped to produce). In 1971 they successfully completed the game, which was titled Computer Space. The game, while not a complete flop, was far from what one would consider a success. Adding to their troubles, when attempting to incorporate Syzygy they discovered the name was already in use. Forced to adjust, they renamed their fledgling company Atari Inc.
Thanks to the programming help of a new Atari employee, Al Alcorn, the game PONG is developed as a follow-up to Computer Space. Although PONG was hugely successful when it was tested in a Sunnyvale pub, Atari was unable to raise venture capital forcing them to manufacture and market the game themselves. Although Atari soon found themselves successful, Dabney left the company in early 1973 after having a falling out with Bushnell.
Profits at Atari explode over the next few years, and finding no other way to remain competitive in the growing video game market, Bushnell sells Atari to Warner Communications in 1976 for $28 million. During the sale of Atari, Bushnell also signed a 5 year non-competitive agreement. Bushnell remained as the head of Atari, but many of his ideas and pet projects wind up ignored by his new corporate bosses. One project however, was given the green light.
Development
Included in the sale contract to Warner, they agreed to fund the building on one restaurant featuring Bushnell's concept of animated entertainment. Free to finally realize his pizza parlor dream, Bushnell began assembling a team of people to make it a reality. He created The Atari Restaurant Operating Division. This division explored several concepts including using antique Wurlitzer organs, creating an antique store themed restaurant, and so on. In the end Bushnell decided "aw heck, let's just go with the animals," and thus the entire concept was reverted back to his original idea – using audio animatronic characters in a pizza restaurant. One of Bushnell's first moves was to hire a man named Gene Landrum to become the Atari Consumer Division President and general manager of the Atari Restaurant Operating Division. Landrum had recently worked with Atari doing a market study for the Atari VCS (2600) and Bushnell entrusted him to flesh out the pizza parlor concept. Armed with a current copy of the International Association of Amusement Parks and Attractions (IAAPA) directory, Landrum began seeking people to build the animated puppets that they needed. The only company that responded to his request was a small outfit located in the high desert of California called Fantasy Forest Manufacturing. Fantasy Forest was owned by a man named Harold Goldbrandsen who was primarily a fabricator of mascot costumes. Although he wasn't exactly trained in building animated puppets, he believed he could figure it out as he went. When meeting with Bushnell and Landrum in Sunnyvale, he noticed they had a mannequin in the room wearing a rat costume - one he had last seen at IAAPA at the booth of a competitor. Bushnell had actually purchased this costume at IAAPA and, believing it was a coyote, had tentatively dubbed his new restaurant "Coyote Pizza". Once the costume was shipped and arrived at Atari, the long pink tail indicated it was actually a rat costume they had purchased. The costume had become a physical, tangible symbol of what Bushnell was hoping to create. Believing the restaurant would become so successful it would eventually compete with Disney, Bushnell named this costume Rick Rat, as "Rickey Rat" was a little too close to "Mickey Mouse" for legal comfort. After bringing Goldbrandsen on board to create the costume and animated puppets, Landrum hired Robert (Bob) Allen Black an artist who had worked previously with Atari. Black had drawn several cutesy looking cats, dogs, and other creatures - none of which passed any muster with Bushnell. During a meeting with Black, a frustrated Bushnell grabbed the head of Rick Rat, set it on his desk and said "here, draw something that looks like this." During this time Landrum was hard at work hammering out his vision of exactly how this new restaurant would be laid out, creating a presentational outline titled "The Big Cheese". It was not only one of the proposed restaurant titles, but also the name the mascot rat. The name wasn't meant to be however, as it was discovered that Marriott had already trademarked the name for its own chain of restaurants. Even though the trademark was on the verge of expiring from non-usage, Atari's legal department decided a new and unique name was needed. The name "Chuck E. Cheese" was eventually chosen, as it was both alliterative of Mickey Mouse and because it was a three-smile name - just saying it forced a person's mouth to smile.
Along with refining their mascot, a group of supporting characters was also developed. Crusty the Cat, a black and white baseball playing cat; Billy "Banjo" Boggs (soon renamed Jasper T. Jowls), a hillbilly hound dog; Pasqually, the Italian chef; and the Warblettes, a trio of singing magpies. These characters were the original Pizza Time Players, and were soon fabricated into animated form by Goldbrandsen. To handle the technical side of animating the animatronics, Landrum hired Larry Emmons and the team at Cyan Engineering (often referred to as Atari Grass Valley) to design the control system to make the show work.
Pizza Time Theater (1977-1984)
The first Chuck E. Cheese's Pizza Time Theatre opened on May 17, 1977 in San Jose, California. The pilot location was a 5,000 square foot former brokerage building and was the first restaurant of its kind – offering a combination of pizza, animated entertainment, and an indoor arcade. The most unique aspect of the Pizza Time Theatre was of course the animatronic show - life-sized animatronic critters that were placed in faux picture frames around the showroom and entertained guests free of charge throughout the day. The Pizza Time Theatre was as innovational as it was groundbreaking and became an immediate success. Improvements and innovations continued to be tested at the pilot store including the addition of revolving guest characters who would periodically join the animated cast to keep the show fresh - Helen Henny in August 1977, Madame Oink in February 1978, and Foxy Colleen in October 1978. Other additions included an improved pizza ordering system called "NOTALOG", developed by Bushnell's former partner at Atari, Ted Dabney.
Despite the apparent success of the Winchester pilot store, the heads of Warner Communications were disinterested in the concept. They had purchased a video games company, and were eager to shutter the restaurant so they could better focus on Atari's struggling entry into the home video game market. Warner finally sold the restaurant and concept ownership to Bushnell in June of 1978 for $500,000. Bushnell quickly incorporated the business into Pizza Time Theatre, Inc. and formed a team to open additional units. He placed himself as Chairman and immediately hired Landrum away from Atari to become President and Pizza Time's first employee. Other talent was soon secured - Greg Tilden became the Director of Technical Operations, Michael Hatcher became the Director of Entertainment, and Ray Davis was appointed Director of Engineering.
A second location was secured in San Jose on Kooser Road. This former grocery store was 19,000 square feet and nearly four times the size of the Winchester store. Containing over 100 video games, pinball machines, and other types of games, it was the country's largest pizza parlor upon opening. New attractions such as a cabaret room featuring Dolli Dimples, a piano playing hippo, and the Fantasy Forest Game Preserve (named after Goldbrandsen's Fantasy Forest company) were new additions for the Kooser store. A few changes to the cast of characters were also made, including changing out the Warblettes for the Mopsey Sisters, and swapping out Crusty the cat for a new purple monster character named Mr. Munch.
Back at Atari, Bushnell had become more and more frustrated with Warner's management and conservative market responses. They were slow to pursue new inventions such as the Atari 2600 home video game system, and Bushnell's unhappiness reached a peak in November 1978. He shortly thereafter left Atari, but the non-competitive agreement he signed 2 years earlier would come back to haunt him, as it barred him from competing with Atari in the video game world. Unable to compete in the arcade industry, his full attention became devoted to creating an empire of Pizza Time Theatre restaurants.
Bushnell aggressively began marketing the Pizza Time concept and trying to attract franchisees. Promotional paraphernalia was distributed via Pizza Time's PR firm Eesley Public Relations. In these various flyers, Pizza Time Theatre is touted as having the only computer controlled 3D animation outside Disneyland, a fact which wasn't exactly true. Regardless, the high profit yields attract several clients such as Robert L. Brock. Bob Brock, President of Topeka Inn Management (TIM), took an immediate an interest in Pizza Time as his current company was focused on diversifying their enterprises. Brock was already wealthy from being the world's largest franchisee of Holiday Inn hotels in the United States. In late June of 1979, as a way of securing an exclusive franchise deal, Brock signed a $200 million dollar Co-Development Agreement with Bushnell. This contract gave Brock exclusive franchising rights to open Pizza Time Theatres in 16 states across the Southern and Midwestern U.S. The contract included a target of 285 stores, 200 to be operated directly by TIM and another 85 to be sub-franchised. For these stores, Topeka Inn Management would be the one setting forth the capital to build each restaurant, estimated at a million dollars apiece.
In the early 1980s, the restaurant franchise debuted in Australia under the name Charlie Cheese's Pizza Playhouse. The name change had to do with the common meaning of the word "chuck", which in Australia is a reference to the phrase "to throw up".[1] Consecutively, Pizza Time Theatre, Inc. also opened at least one restaurant in Hong Kong and Singapore, which both closed shortly thereafter as a result of the initial company's 1984 bankruptcy.[1]
Animatronic Pizza Wars
After a fallout Bushnell, Brock went on to develop Showbiz Pizza Place which was like Pizza Time Theater but with it's own characters which were from a company named CEI, ran by Aaron Fector. It opened in 1980.
The souring relations between Bushnell and Brock quickly exploded into litigation. Pizza Time Theatre Inc sued TIM (and Brock personally) over breach of contract. TIM immediately issued a counter-suit against Pizza Time Theatre (and Bushnell personally) on the grounds of misrepresentation. This contested battle remained pending in the California courts for over 2 years.
Just prior to the opening of ShowBiz's second store, they won the first round in court against Pizza Time Theatre. The court found that Pizza Time did not show proper evidence that ShowBiz was using trade secrets or competing unfairly. TIM also changed its corporate name to Brock Hotel Corporation (BHC) in April of 1980.
With the pending litigation hovering above both companies, Pizza Time and Showbiz embarked on an aggressive expansion plan. The number of new stores that open during 1980-1982 exploded; often times competing stores are opened within sight of one another. In order to stay ahead of their competitor and gain a greater market share of the pizza entertainment industry, both companies continue to innovate and enhance their entertainment, albeit with differing philosophies.
Pizza Time Theatre quickly jettisoned the original animatronic show format, commonly referred to as the "portrait" show and placed all the characters together on one single stage in order to improve the focus on the show. This new setup, complete with redesigned half-bodied animatronics, becomes known as the Balcony Stage. Whereas the the original portrait characters were designed by hand and had cosmetics constructed with latex and fiberglass, the new character cosmetics were instead made of wood, foam, and cloth. Along with the standardization of the inner mechs, this was all done purposely to ease both the manufacturing of the animation and make the production cost effective. This was done at the request of Bushnell, who knew a thing or two about cost savings from his experience building PONG machines in rapid fashion.
Also during the early expansion, Pizza Time made additions and refinements to their entertainment as such, new guest stars were introduced including Sally Sashay in 1979 and Harmony Howlette in 1981. The cabaret shows were also expanded to include several new characters. New cabaret characters included Artie Antlers (1980), and B.B. Bubbles (1982). New lounge characters included Helen Henny (1979), The Beagles (1980), The King (1981), The Beach Bowzers (1982) and King Kat (1984). The Four Little Shavers also make rare appearances in the prototype Ice Cream Emporiums which were located in a few Pizza Time test locations. The diversity of these cabaret and lounge shows really helped to accent the fun of Pizza Time Theatre restaurants, making them more diverse – one store most likely had a different guest star and different cabaret or lounge show from a store across town.
Bankruptcy and Merger
In 1982 the contested lawsuit between Pizza Time and ShowBiz is settled out of court, with ShowBiz agreeing to pay Pizza Time a portion of its profits for the next 14 years – an expense estimated to be in the range of $50 million. Despite the settlement in favor of Pizza Time, the two companies still engaged in heavy competition. As the companies battled for customers, Bushnell placed Pizza Time in the hands of others while he invested his interest and time in other ventures.
When Pizza Time went public in 1981 it increased Bushnell's worth to somewhere in the range of $70 million – much of it in Pizza Time stock. Being an inventor and innovator, Bushnell's goals were to start a company, manage it to a stable and successful point, and then move onto new projects. It had come that time with Pizza Time Theatre, and Nolan handed the operation of the company over to others, while he founded a company called Catalyst Technologies to springboard his new products. Several new products came from this company such as Compower, Axlon, Etak, Androbot and Magna Microwave. These new products included shopping on computers using laserdisc, computer controlled navigational maps for vehicles, robotic children's toys, and life-size personal robots. Although these new ventures were semi-successful, the year 1983 would spell disaster for Bushnell and his personal projects and fortune. In the U.S. the great video game crash hits, mainly due to a massive amount of cheaply made and look-alike games which flooded the home market. Pizza Time Theatre lost $15 million while Atari, the video game giant, lost $539 million.
Much of Pizza Time's profits had been funneled into new ventures, opening new subsidiaries within the company such as Kadabrascope, which was to pioneer computer animation, Zapp's Bar and Grill, which was Pizza Time's foray into adult dining establishments, and Sente Games, which was Bushnell's long-delayed return to the arcade video game market. By July of 1983, Pizza Time was beginning to hemorrhage money, reporting their first loss ever at $3 million. Keenan and other board members attempted to stop the bleeding by closing unprofitable units and changing the pizza recipe to entice customers. Bushnell however believed that Sente would cure all of Pizza Time's troubles once he was able to debut the company, finally free from the non-compete agreement he was still bound by (which expired on December 9, 1983 at 10:08 a.m.) He also refused to let go of Kadabrascope and Zapp's in order to free up cash for the company.
The successful year-end to 1983 that Bushnell had anticipated never came. As problems continued to mount, Bushnell resigned as chairman and CEO on February 1, 1984. Straddled with debt and losing close to $20 million per month, Pizza Time Theatre Inc. filed for Chapter 11 bankruptcy protection on March 28, 1984. Although ShowBiz had apparently won the "pizza war" against their competitor, they weren't in much better condition, having faced a months-long sales decline.
Ironically, the arguably most valuable asset left to Pizza Time's remaining estate was the settlement agreement that was still owed by ShowBiz. In a mutually beneficial maneuver, ShowBiz decided to embark on a merger with Pizza Time, swallowing up the remains of their assets beginning with much of their franchise system, and thus purging the debt that ShowBiz owed. In order to make this purchase, a 90% agreement was needed - of which Brock only owned 80% of ShowBiz (with CEI owning the other 20%, effectively giving Fechter veto power over any such changes). With Brock explaining to Fechter that this was the only way their company would survive, Fechter sold him 10% of his shares giving him the 90% needed to proceed. In order to make the purchase of Pizza Time, ShowBiz issued 4,000,000 shares of ShowBiz Pizza Place common stock as well as 500,000 shares of preferred stock to the creditors of Pizza Time. After acquiring the last of the Pizza Time assets, ShowBiz Pizza Place Inc. adopted the new name of ShowBiz Pizza Time Inc.
ShowBiz Pizza Time Inc. (1985-1990)
In 1985 Richard M. Frank joined the company as president and CEO of ShowBiz, replacing Brock who remained CEO and chairman of Brock Hotel Corp. Prior to joining ShowBiz, Frank had been the COO of Steak and Ale which was quite successful. He decided to take the reigns at ShowBiz Pizza Time after visiting several ShowBiz and Pizza Time Theatre restaurants and observed the children running around and loving the concept - despite the fact that the stores were run down and the service wasn't very good. It was quite a gamble to take over a newly merged company that was on the brink of bankruptcy but Frank saw value in the concept beyond where it was at - if children loved the experience (as poor as it was at the time) he wondered how great it could be if it could be done in a more quality way.
Frank's first move as head of ShowBiz Pizza Time was to stop the bottom-line bleeding. Most leases weren't being paid, debt wasn't being paid at all, and all revenue was allocated to make payroll and paying suppliers for what was absolutely needed to operate. With 359 total restaurants, Frank made the difficult decision to close around 100 of the least profitable locations. ShowBiz's parent company, Brock Hotel Corp, was also facing dire straits. With the help of the Hallwood Group, major financial restructuring is undertaken. In order to stave of bankruptcy, debt was renegotiated with 96 percent of Brock's creditors and reduced the debt from $110 million to $30 million. The proceeds gained from closing the less profitable units was enough to pay off the remaining debt. Overall, Brock Hotel Corp's net worth went from a negative $64 million to a positive $55 million, and the company emerged with a new board of directors. Brock was given a payout and left the company that bore his name, with Anthony J. Gumbiner becoming chairman and Thomas J. Corcoran Jr. promoted to President and CEO.
The restructuring is completed by mid-1986 and further changes are made to help stabilize in-store sales at ShowBiz and Pizza Time restaurants. Focus is placed on food quality, execution, parent & children satisfaction, marketing, and finances. In order to chase off teenagers and make the restaurants family friendly, rules were put in place preventing anyone under 18 from entering. All but the most popular video games were removed and more redemption games of skill were installed. New entertainment ventures were explored as part of the Attractions Development Program - these ranged from minor cost-saving entertainment enhancements to full scale changes, such as toying with the idea of removing the Rock-afire Explosion from ShowBiz restaurants.
With aggressive marketing and major remodeling, profits began to increase. In 1987, the company opened its first new store in over 3 years. Also in 1987, the company acquired most of the assets of Montery House Inc. a chain of Tex-Mex restaurants. A few of the existing Pizza Time franchises used outside animation such as the Family Album and Hot Fudge shows because of the availability shortage of Pizza Time animation during the company's slow years. By the late 1980s, these stores received the new Chuck E. Cheese stages – the first new stages to be produced since the balcony stage in the early 1980s. The two new stages were very similar and used retrofitted balcony characters. The original was called Chuck E.'s House (aka the Rocker stage) which featured the characters on a porch and inside of a house, and a later version called Chuck E's House Façade (aka the C-Stage) which was a scaled down retrofit that didn't have full bodies on the three characters in the center.
A new standardized show format was implemented system wide and was known as the 'Birthday Wave' format. This new format consisted of shows that were 8-12 minutes long and were designed to make birthday shows easier to execute. By showing a birthday show at a certain time, several parties could be served in one wave. The new 'cyberstar' system was introduced to accent this new format and included video monitors to compliment the characters on stage.
Concept Unification and removal of the Showbiz Name
Many of these arrangements were made in preparation of the company's future plans. In 1988 Brock Hotel Corp changed it's name to Integra (A Hotel and Restaurant Company) and shortly after announced plans to spin-off ShowBiz Pizza Time into a publicly traded company, as that year ShowBiz's sales increased 8.3%. New logos and a rebranding also took place, with ShowBiz Pizza Place becoming simply ShowBiz Pizza, and Chuck E. Cheese's Pizza Time Theatre becoming Chuck E. Cheese's Pizza. By the end of 1988 Integra had dispersed 90% ownership of ShowBiz Pizza Time Inc. common stock to Integra shareholders and ShowBiz common stock began trading on NASDAQ in early January 1989.
Once ShowBiz was on it's own, new ventures were undertaken including perhaps the most major streamlining maneuver in their history - a major rebranding effort known as Concept Unification. By September of 1990 all ties with Creative Engineering had been broken and nine ShowBiz stores had removed the Rock-afire Explosion characters, retrofitting them to resemble the Chuck E. Cheese characters. As profits seem to stay steady and in many cases increasing, more and more Rock-afire stages were converted into Munch's Make Believe Band. The Porch and Rocker stages were also transformed into a similar version of the Make Believe Band (becoming either the Road Stage, or a 1 or 2-Stage variation known as an Existing Stage). Concept Unification lasted for approximately two years, and by 1992 all restaurants were united under the single banner of Chuck E. Cheese's Pizza.
Chuck E. Cheese's (1992-2012)
The early 1990s brought outside competition which forced ShowBiz to adapt in order to compete in the new market. Discovery Zone was one of the entertainment concepts that became a source of major competition, being an entertainment center targeted toward children, but with a very different theme. Discovery Zone was an indoor jungle gym with many hands-on activities aimed at children. Sales at restaurants begin to slow and following disappointing sales in 1993, ShowBiz Pizza Time drops the word "pizza" from the restaurant name, rebranding it as simply "Chuck E. Cheese's". A new kid friendly version of Chuck E. is also promoted, giving a thumbs-up gesture in the new restaurant logo. The remaining Monterey's Tex-Mex Cafe restaurants are also sold off.
In 1995 the company began major remodels which are known as Phase I. These Phase I store refreshes include new features such as Kid Check kiosks to bring parent's additional piece of mind while letting their kids run around and play, Free attractions such as Skytubes are also added to give them a more level playing field against Discovery Zone. Chuck E. himself is officially changed from a rat to a mouse and is given a new kid-friendly image.
In 1997 a new test stage called the Awesome Adventure Machine was test marketed. Although the stage was too complex and unstable, it paved the way and gave rise to the Chuck E. Cheese stage show concept known as Studio C. Designed and produced by Garner Holt Productions, Studio C contained only one animated figure, Chuck E., with the other characters present only on television monitors.
With all units now completely themed to Chuck E. Cheese, ShowBiz Pizza Time, Inc. changes its company name to Chuck E. Cheese Entertainment, Inc. in 1998. Phase II remodels begin, increasing the number of games and rides, along with upgrades to the prize redemption areas. In July of 1999, Discovery Zone files for Chapter 11 bankruptcy and CEC Entertainment buys out their remaining assets and intellectual property, eliminating its only major competitor and securing themselves as the dominant family entertainment center in the U.S.
The early 2000s proved to be a boon for the company, with sales increasing and new locations opening constantly. Phase III remodels were instituted in 2000 with a focus on enhanced games and rides and all new Toddler Zone and Skytube improvements. The 300th company-owned location was opened in March of 2000, and franchised locations were aggressively purchased back by the company. With the company no longer franchising in the United States, many franchisees who were wanting to expand found themselves unable to grow their business and instead opted to sell their units back. The company also tested new "small town" Chuck E. Cheese's locations featuring an all you can eat buffet, a costumed Chuck E. on the floor at all times, and a charge for admission at the door. Ultimately these locations were given a scaled down version of Studio C, suggesting that the influence of animated characters was still important.
In 2003, the 400th company-owned location was opened, and in 2005 the 500th location was opened. Phase IV remodels began in 2004, featuring updated interior and exterior decor and a new company logo and color scheme. Same store sales in many units became fairly stagnant, with little to modest increases, but the franchise buybacks and opening of additional units kept revenue flowing and increased the company's bottom line. Cutbacks in entertainment were starting to surface however - the Studio C animated concept was scaled down from the original "alpha" to a "beta" version in 2001, featuring an animatronic with half the movements and less bells-and-whistles throughout the rest of the show. Plans to roll-out Studio C system-wide, with the original goal of reaching completion in 2002 never materialized, leaving many stores with much older animatronic shows that had been in operation for several decades. Some Studio C shows were installed with little more than a backdrop of color changing circles known as Circles of Light, eventually giving way to Circles of Lights stages with no animatronic character at all (with only the costumed character appearing periodically to perform special shows). By the mid-2000s the costumed Chuck E. was planned to have a flow of new outfits to keep the character fresh, each named after a progressing letter of the alphabet starting with "A". The first was the purple and green "Avenger" outfit. No other outfits followed, leaving the Avenger look to become a mainstay for several years.
Although the company had held its head above water through the Great Recession, many of the mechanisms it had used to stay afloat were beginning to run thin. Remaining franchises to absorb into the company were few and far between, and the company had all but saturated the market to expand much further. Rather than take the risk of opening units as fast and furious as they had been, they began offering franchise options once again in the United States, saving company funds to invest into existing stores. Sources of revenue were in greater need and the company began to remove the "free" entertainment options in many locations - pulling out Skytubes and Toddler Zone's and replacing them with additional games or, in some stores that had the room, bumper cars and other premium attractions.
Buyout and modern redesign (2012-2014)
In the summer of 2012 Chuck E. Cheese Entertainment, Inc. was ready to make some major changes to push the brand forward in a new direction. Much of this was accomplished by contemporizing the Chuck E. Cheese character into a CGI "rockstar" mouse, with a completely new look and a brand new voice. In May the company had announced they were working with the Dallas-based Richard's Group on the new marketing campaign. However, any successful roll-out of the rebranding that the company was planning, quickly went up in flames prior to the official debut.
In late June, subscribers to the new Chuck E. email club were given preview access to an mp3 described as "Chuck E.'s first single" - which ended up being the promotional track to the rebranding campaign called Say Cheese (it's Funner). Online fans quickly noticed the voice sounded quite different from Duncan Brannan who had voiced Chuck E. since 1994. When one of the online fans contacted him directly to ask if he was still doing the voice, Brannan responded by posting a "press release" to his Facebook wall describing how he was let go in a farewell letter to his fans. That farewell posting was archived to ShowBizPizza.com and within a few days, referenced in an article by the Dallas Morning News. Within hours other outlets and blogs were reporting about it - Gawker, the Huffington Post, Perez Hilton and many others had all written about it (many of them unfairly latching onto the parts of Brannan's posting regarding his religious views). The next day the AP had published an article making headlines in hundreds of news outlets. Rather than focus on the overall ad campaign, the news cycle instead focused almost entirely on Brannan's replacement by Bowling for Soup frontman, Jaret Reddick. Compounding the issues was the use of the term "funner", which, although grammatically correct, sounded weird - the company had just used the term "more fun" in a campaign a few years prior.
Most of the press received over the rockstar rebranding was a disaster, not to mention that the character updates weren't immediately popular with the general public. Sales failed to turn around, forcing the company to release a plain text annual report, the likes of which had not been seen since Pizza Time Theatre entered bankruptcy in the early 1980s. In 2014 Apollo Global Management acquired Chuck E. Cheese Entertainment, Inc. and its 577 worldwide stores for approximately $950 million. As a result of the merger, Chuck E. Cheese's became a privately-held, wholly-owned subsidiary of affiliates of Apollo. Soon after, the company acquired the Peter Piper Pizza chain of restaurants - operating both chains under the parent company Queso Holdings, Inc.
CEC 2.0 and Financial trouble (2014-2020)
The pre-Apollo management team at Chuck E. Cheese Entertainment, Inc. all resigned within a month including CEO Michael Magusiak, chairman Richard M. Frank, Tommy Franks, Tim Morris, Cynthia Pharr Lee and Walter Tyree. Becoming the new CEO in 2014 was Tom Leverton, most recently serving as the CEO of Topgolf.
In 2017 Chuck E. Cheese Entertainment, Inc. embarked on a major store rebranding initiative known as "2.0" which would help integrate the new rockstar version of Chuck E. Cheese fully throughout the stores. These new 2.0 restaurants were called Chuck E. Cheese Pizzaria & Games, with upscale features, muted and modern design, tokens replaced by the new Play Pass card system for all games, and the removal of all animatronics in favor of an electronic lighted dance floor on which the costumed character performs. Similar to what occurred with the rockstar revamp, media outlets seized on the news regarding the removal of the animatronics, leading to often less than positive press and social media reactions.
Remodels continued over the next few two years, with newer openings scaled back due to budget constraints. In 2019 the company announced the rebranding of the restaurants to simply "Chuck E. Cheese" dropping the possessive. An attempt to take the company public through a merger with the shell company Leo Holdings Corporation fell apart shortly after being announced. The plan was to debut the company at a valuation of about $1.4 billion, and planned to use money from the deal to pay down debt, which stood at $958 million.
Following the failure of the public offering, Leverton resigned as CEO in early 2020 and was replaced by David McKillips who had been the president of international development for Six Flags Entertainment Corp. Less than two months following the appointment of McKillips, the covid-19 pandemic took hold in the United States, shuttering most indoor dining establishments across the country. Chuck E. Cheese restaurants, famous for their entertainment offerings, were forced to stay alive solely through delivery and take out services. As a result of this (and also knowing that Chuck E. Cheese isn't the place most people initially think of when ordering out for pizza) Chuck E. Cheese begins selling pizza under the pseudonym brand Pasqually's Pizza & Wings through delivery services such as Grubhub, DoorDash, and UberEats. However, unable to bring in enough revenue or secure loans to pay down interest on the company's debt, Chuck E. Cheese Entertainment, Inc. filed for Chapter 11 bankruptcy protection June 25, 2020.
As of June 2020, Chuck E. Cheese operates 612 corporate and franchise stores, as well as 122 Peter Piper Pizza restaurants. They are located in 47 states across the United States and in 16 countries and territories around the world.[2][3]
Entertainment
Video arcade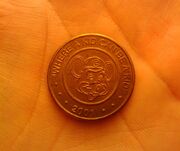 Since the company's inception, one of the primary draws for the business has been its video arcade offering inside restaurants.[4][5] Within the arcade, customers can play coin-operated video games or redemption games, the latter of which involves games of skill that reward players in the form of tickets based on score. Tickets can be redeemed later for merchandise, such as candy and toys.[6]
The coin-op games originally accepted brass tokens issued by the company, stamped with various logos and branding that evolved over time. The company experimented with a card access method as a replacement for tokens, which allowed customers to load credits onto a card that could then be swiped for access at arcade games and refilled later. It was tested under different names including "Chuck E.'s Super Discount Card" and "Chuck E. Token Card".[7][8] Eventually the Play Pass was successful enough to be the standard in all stores.
Products
Menu items
While its primary focus is pizza, Chuck E. Cheese also offers cold-cut sandwiches, buffalo wings, salad bars and desserts. Some restaurants are also used as test locations which feature new Chuck E. Cheese foods.[9] Certain Chuck E. Cheese locations also offer beer and wine.[10]
For soft drinks, Chuck E. Cheese previously served Coca-Cola products at its restaurants. In 2011, the company switched its contract to Pepsi and started selling its products at most of the locations shortly afterwards. However, some restaurants may still sell Coca-Cola products.
Starting on November 13, 2012, new gluten-free menu items are available at more than 500 locations in the United States and Canada. This currently includes a choice of a personal-size cheese pizza and an individual chocolate cupcake.[11]
Entertainment
Arcade and currency
From the time of the company's inception to today, 1 of the main draws for the stores has been the arcade.[5][4] The arcade games primarily consist of either redemption games or video arcade games.[12]
The brass tokens issued by the company for use in their arcades exist in numerous varieties, and are collected by exonumia enthusiasts.[13] The company is currently testing a card access method for use with their arcade and skill games. Some locations will no longer use tokens, and instead use a refillable card to access credits, which replace tokens; and points, which replace tickets.[14]
Animatronic shows
Another primary draw for the centers since their beginning through to the mid-2010s has been its animatronic shows.[15] There have historically been several different styles of animatronic shows in use within the company, details of which would vary depending on when the location opened, whether it was renovated, available room for animatronic stages, and other factors.[16] Over the years, these animatronics have often been supplemented by (and in recent years been completely replaced by) costumed character's, Along with the arcade, the other main draw for the restaurants since the beginning was its animatronic show, until the mid-1990s. More recently, less attention has been placed on animatronics. However, there are now several different styles of animatronic shows in use within the company, depending on when the location opened. The show featured Crusty the Cat (the first character to be retired as he was replaced with Mr. Munch in 1978), Pasqually the singing chef, Jasper T. Jowls, and the main focus of the show, Chuck E. Cheese.[17]Later, restaurants also added Cabaret shows made in separate rooms of each restaurant.[4] They also frequently changed out the sole female character in the main show. They achieved this by applying a cosmetic change to the existing animatronic, as well as changing the stage backdrop, to match the performer.[18][19]
Beginning in 1998, the company's show installed into new locations, referred to as "Studio C", consists of a single animatronic Chuck E. Cheese character alongside large television monitors, lighting effects, and interactive elements.[20] In some markets, the company has also tried a new restaurant concept that omits the animatronic show entirely.
The members that perform in the animatronic show are:[21]
Costumed shows
There are two types of costumed shows used by Chuck E. Cheese's - the LIVE! show and the Road show. The LIVE! show is performed at the front of the stage in the showroom, whenever a child is celebrating a birthday. It consists of a rendition of "Birthday Star", sung to the child that is celebrating the birthday. A costumed Chuck E. Cheese dances with the guests and sings, while being accompanied by the cast members.[22] The Road show is a performance by a costumed Chuck E. Cheese character, and is performed outside the normal showroom. Children are gathered via the public announcement system and dance to win free tickets.
References
External links
Wikipedia
Website